Ready or not, our world is changing! What does this mean for our schools? As Carol Campbell pens in her editorial titled An Unchanging Mission in a Changing World, education needs to catch up with recent changes in the world of work. Volume 78, Issue 3 of the Journal of Adventist Education focuses on critical thinking and inquiry, skills necessary for success in today's society. Articles include:
Critical Thinking and Inquiry in Adventist Education by Sandra England
England explains how teaching based on standards-based curriculums and 21st century skills can help achieve a variety of goals in the classroom. The article then describes methods for helping students become independent thinkers, including three powerful frameworks: Understanding by Design, Depth of Knowledge, and Structure of the Observed Learning Outcomes Taxonomy. Also included is an overview of metacognition and strategies for encouraging metacognition in students.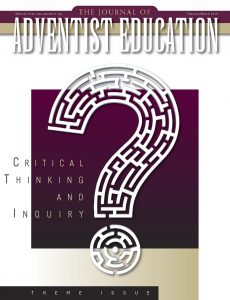 Using Questions to Drive Inquiry by Douglas Fisher and Nancy Frey
"Literal questions do have a place in the classroom. But limiting a lesson to these types of questions will not ensure that students think deeply. In this article, [the authors] offer advice about two types of questions that can facilitate students' deep thinking while also recognizing other types of questions can do the same thing."
Promoting Critical Thinking in Early Childhood: Inquiring Minds Want to Know by Davenia Lea
Discover the importance and benefits of understanding how young children develop inquiry skills. As educators "harness the natural curiosity of children, we will help them develop critical thinking skills and facilitate inquiry while fueling their natural passion for learning." Consider the characteristics of classrooms that utilize inquiry-based learning. Learn how to develop inquiry through play-based learning and creating the environment.
Promoting Inquiry in the Elementary Classroom by Audrey Mayden Campbell and Joy Brunt Veverka
Are you convinced of inquiry-based learning's benefits, but intimidated at the thought of incorporating it into your classroom? Consider this step-by-step plan, followed by a detailed example of what it looks like in action.
Critical Inquiry in ByDesign Science: 10 Reasons to Like the ByDesign Science Textbooks by Jerrell Gilkeson
Describing the North American ByDesign Science curriculum, the author states that "this engaging, rigorous, and developmentally appropriate curriculum nurtures children's natural curiosity as they explore the wonders of God's creation through the lens of the Bible." He provides 10 reasons for teachers to like the textbooks and addresses two possible concerns.
Critical Thinking: Practical Strategies for Teaching and Learning by G. Adelle Faull
"What does critical thinking look like in the classroom? What strategies can be used to facilitate critical thinking?" According to Faul, a classroom that emphasizes critical thinking is a safe space that is collaborative and provides for visual exploration of a student's thoughts. Faul describes the basic process of mastering critical thinking and explores three practical strategies for creating an atmosphere of critical thinking in the classroom.
Experiential Education and Inquiry Learning by Tony Robinson
"This article [presents] the case for the importance of providing direct and authentic experiences outside of the classroom for adolescent students in Adventist schools. Research and experience with this age group show that such opportunities afford students rich learning experiences with lifelong impact, as well as improved engagement and meta-cognitive learning outcomes, when offered with an inquiry learning context." The article also describes an experiential learning course in action and its outcomes.
Promoting Critical Inquiry in Teacher-Education Candidates by June Fiorito
If we want to see more project-based learning in classrooms, why not teach future teachers using the same method? Discover more in this article providing "a brief history of project-based learning, a review of the basic principles of this approach, and a description of how project-based learning was implemented in a teacher-education methods course."
Inquiry Teaching in Higher Education: A Critical-Thinking Context by Deril Wood and Jeannette Dulan
"The purpose of this article is to explore benefits and challenges of an inquiry-based approach within the paradigm of critical thinking in higher education. We have examined the biblical roots of an inquiry approach and will define inquiry and discuss its importance in a critical-thinking context. Further, we will cite examples of the application of the critical-thinking/inquiry approach in higher-education institutions, identify classroom delivery challenges, and finally present a framework for practical applications."
The Future of Education: Are We Ready? by Marie Alcock
The current educational system was designed during the industrial revolution, when students needed preparation for working in factories. A new model is needed that will "meet the different needs of contemporary learners as well as the requirements of an information-saturated society and job market." The development of the new model will require major changes in the way that educators deal with scheduling, grouping patterns of learners and adults, and use of space.