What do Florence Nightingale and Ellen G. White have in common? Both were passionate about health, healing, and care of the sick! Volume 79, Issue 5 (2017) of The Journal of Adventist Education is a special issue focusing on Adventist nursing education. In their editorial, Patricia S. Jones and Edelweiss Ramal look at the legacy and future of Adventist nursing. Additional titles in this issue include:
A Distinctive Framework for Adventist Nursing by Patricia S. Jones, Barbara R. James, Joyce Owino, Marie Abemyil, Angela Paredes de Beltrán, and Edelweiss Ramal
Representing the perspectives of Adventist nurses and nurse educators from ten world divisions, the evidence-based model presented in this article "captures the legacy and mission of Adventist nursing and provides a framework that, when applied, has the potential to guide the development of Adventist nursing education and the preparation of exceptional professional nurses globally."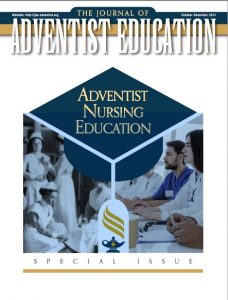 Core Components of the Nursing Curriculum by Dolores J. Wright and Jacqueline Wosinski
Structure is needed in order to pass on knowledge of the art and science of nursing. This article provides "both novice and veteran nurse educators with the core components of nursing curricula such as stakeholders, paradigm shifts, curricular models, levels of education, and evaluation."
Teaching Spiritually Sensitive Nursing Care: Recommendations for an Ethical Adventist Approach by Elizabeth Johnston Taylor
As with educators, those in the health care field have a special chance to show the compassion of Jesus to others. How do nursing students learn this side of the career?
Inviting a Spiritual Dialogue: A Loma Linda University Perspective by Iris Mamier, Edelweiss Ramal, Anne Berit Petersen, and Harvey Elder
Successfully navigating patients' spiritual needs in a multi-faith society takes training. How can nursing educators teach their students to recognize spiritual cues and invite spiritual conversations while connecting with people of all backgrounds in a way that leaves each patient feeling respected and honored?
Clinical Teaching in Adventist Nursing by Susy A. Jael and Lucille Krull
"How much clinical time is required for the bachelor's degree in nursing, and how is it computed?" "What policies should be in place to promote safe clinical practice by nursing students?" The authors answer these questions and more.
Interprofessional Education at Two Adventist Universities by Kathi Wild and Lili Fernandez Molocho
Effective healthcare requires multi-disciplinary collaboration. Read how "Loma Linda University and Universidad Peruana Unión are creating opportunities for student interaction across disciplines to mobilize energy and facilitate collaboration on various health issues. These opportunities help students to acquire and develop effective communication skills, teamwork, collaborative problem solving, and reflective insights to navigate through ethical challenges."
Adventist Graduate Nursing Education: An Interview by Susan L. Lloyd, Holly Gadd, Shirley Tohm Bristol, and Patricia S. Jones
"Globally, there is increased demand for graduate nursing education. In this interview, Dr. Patricia S. Jones sits down with three administrators of graduate nursing programs to discuss the demand for advanced programs, the need for qualified educators, types of certifications, and opportunities for online graduate education."
Developing Presence and Faith in Online Teaching by Pegi Flynt, Flor Contreras Castro, and Tammy Overstreet
In addition to offering quality academic instruction, nursing educators in the Adventist system–including those in the virtual classroom–should recognize the importance of faith integration. Those who do will "examine each aspect of teaching and learning, and build a community of inquiry to capitalize on every method possible to open learners' minds to the influence of the Holy Spirit."