Today I am your conscience your nightmare your Massai
Only today do I devour clay with my small hands
Today I am your big heart of darkness
And ask you for the one Euro
That it costs you
To conceal your ignorance
The poem by Afro-German writer Philipp Khabo Koepsell (2010, my translation) from which these lines are taken deals with the power of charity advertising in the West. Koepsell invites us to think about our motivation for clinging onto certain perceptions of Africa as in crisis – and of us as potential saviours.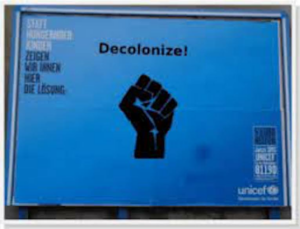 Studies on the representation of Africa in the German public ascertain that an one-sided racist image prevails. Africa is commonly depicted as a homogeneous entity associated with backwardness and related to topics such as war, catastrophes, HIV/AIDS, hunger, oppression of women, underdevelopment and dependency on "aid" from outside.
Yet, the imagery vis-à-vis Africa in the West not only includes barbarity and negativity but also always the other side of the racist coin: Africa as close to nature, as nature per se. This exoticizing dimension of anti-African racism is often fulfilled by the choice of animals on visual material. If you are an educator who frequently engages in distributing information on Africa, the tips shared below on how to provide new perspectives on Africa may prove useful to you.
Help to de-construct harmful ideas. Racist images of the global South are discriminatory towards Black people and People of Color in Europe, and they have real consequences. Empirical studies in school contexts in Germany have, for instance, found a direct link between the portrayal of the global South in educational material and, disturbingly, the prevalence of racism of white German students and teachers towards Black students.
What is more, racist ideas about the global South at home are intimately connected to policies by Western countries abroad. Recognizing this lethal connection is an important starting point before any efforts to challenge such prejudicial ideas can be made.
Hold public images up to scrutiny. Analyzing public images of Africa – whether adverts, posters for events or newspaper articles – is a particularly useful way of understanding the legacy of colonialism and the prevalence of colonial-racist power in Europe and the United States. Such images are omnipresent and target the unconscious to a much greater extent than, for instance, an openly educational exchange in class. Engaging in such a process can be regarded as one of the central realms of indirectly educating the general public about global development and conveying measures to counteract poverty and inequality.
Teach critically. In addition to questioning the colonial legacy in the global North's perception of Africa as well as in its material wealth, a diversified approach to teaching about Africa can draw on a variety of critical sources from anti-colonial and anti-racist writers, including both literature and online sources such as the blog Africa is a Country. The study and use of reliable sources to back your findings in the classroom will better serve to enhance students' understanding on this complex subject.
Engage in further reflection. As a social science educator, I consider it fruitful to read images of Africa with regards to the stories they tell about development, capitalism, colonialism or North-South relations. For anybody to reflect on one's own preconceived ideas about a whole continent – and much of it can be transferred to ideas about the Global South more generally – I recommend reading Binyavanga Wainaina's "How to Write About Africa."
Lastly, if we are to ever hope to change the stories we tell about Africa, we must be deliberate. Begin by including in your conversations language to irritate and subvert common stereotypes about Africa, both in and outside the classroom.